BANFU tubualr skylight in Commercial Area, San Jose del Cabo Airport
GREEN Airport Design Trend
The new commercial area at Terminal 2 of San Jose del Cabo Airport incorporates green spaces with sustainable value, following the new trend for terminal buildings in the world. Aiming to be more green and generate less carbon emission, Grupo Aeroportuario del Pacífico makes itself a top vanguardist corporation in México.

Along with the creation of these green spaces, the design of the Food Court Area was inspired by a Picnic concept surrounded by natural vegetation, the chairs and tables will be set on an artificial grass floor, achieving an outdoor environment of relaxation and more comfort for passengers.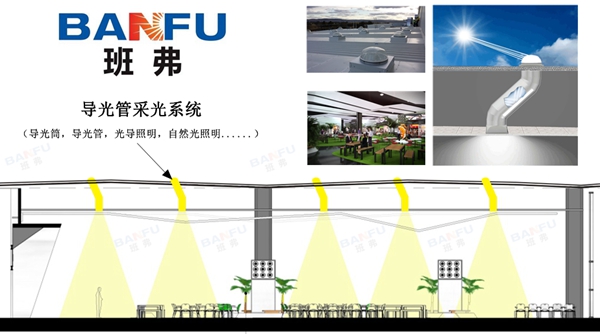 The public space of the Commercial Area will coexist with islands of natural vegetation lit by sunlight, it is achieved by a natural tubular skylight that uses solar collectors reflecting natural light into the interior, generating significant energy savings in lighting throughout the day, creating a more sustainable commercial environment.