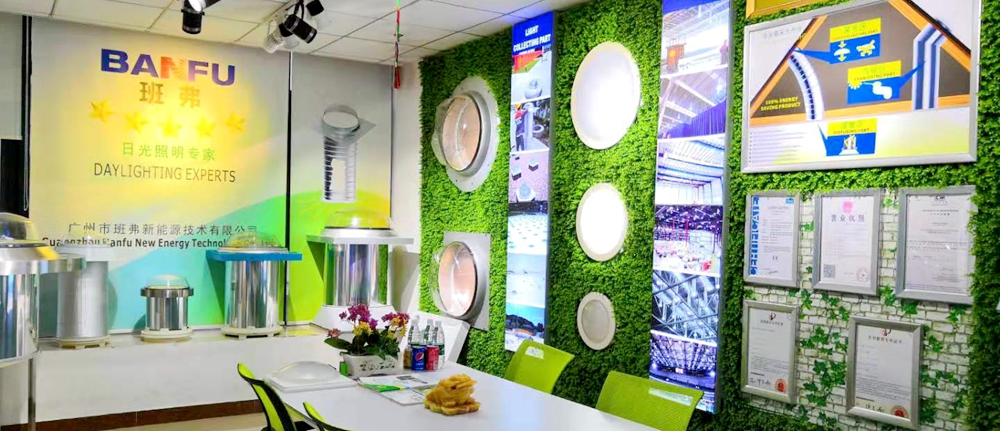 Guangzhou Banf New Energy Technology Co., Ltd located at environs of Guangzhou, the former is Ely-shelter building material limited located at Hongkong. As a new type of roofing lighting, solar energy lighting firm, our main mission is focus research, development, production, sales and service together to support any area need us. The available product includes BANFU light well system, light pipe system, roof window and dome roof window.

As our operation idea is Environmental peaceful lighting, pursue fashion green, hug clean life, carbon offsets, energy saving, promote low carbon economy, the BANFU guys take advantage of pure sunshine to improve the lighting situation of various building which makes highly safety, better comfort of peoples living space. All the available products have got patent and flow to market.

Our company has consistently advocated the "technology rising enterprise, energy saving country" concept, taken "health for people, benefit for human society'' as own mission. To response to the energy saving and low carbon policy, we set up a subsidiary Guangzhou Banf New Energy, devoted to green clean, sustainable lighting's research, development, production, sales and technology enquiry, service and green lighting project improving.

The charactor of honesty, natural advanced green day lighting design concept, qualified construction quality, resonable price and perfect after service makes us win spacious market and customer's trust. We'll try hard to make the "BANF" becomes famous brand home and abroad.