This entry sized system is designed for smaller domestic applications and smaller areas of commercial buildings. It can also be used in multiples to light larger areas when access through the building fabric is restricted. At just 280mm in diameter, the SPT-280RT will fit into most building structures avoiding any need for structural alterations.
The SPT-280RT system can be used singly or multiples to get ideal natural light. This system can be installed at most building, no need to change structure of available building.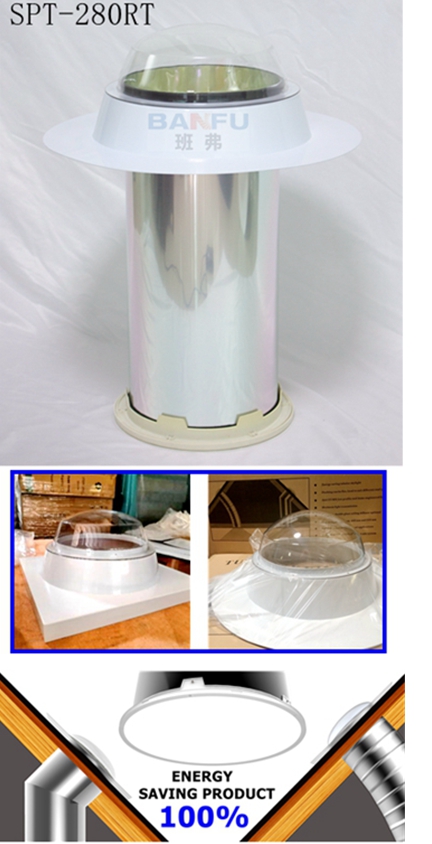 Example: Solarspot SPT-750RT open-ceiling lamp system. Options are availble for flat and pitched roofs and tube lengths up to 8m.

SPT-280RT system accessories and components:
Lighting collecting part: round shape lighting dome
Roof flashing: different shape for optional
Transit tube: standard tube (600mm、400mm、300mm),
(extension tube for optional according to actual need)
Diffuser kit: curved or flat diffuser available
System specification:
Tube diameter: 280mm
Recommend area up: 15sqm
Potential tube length: 8m
SPT-280RT system benefits:
Anti-UV polycarbonate lighting dome with superior thermal insulation performance,
Customized flashing shape according to project site situation
98% reflectivity light tube
Easy to assemble and install fast.
SPTT-280RT Application Examples
Bathrooms and en suites 、Hallways and corridors 、Landings and stairwells、Kitchens and living areas
Studies, workshops, offices, classrooms 、Larger corridors and stairwells 、Communal toilets and shower blocks 、Custodial facilities。。。。。。。
If you have any other creative idea, please feel free to contact us.
Our engineer team will be glad to offer technical support and customized service for you!
Learn more about our R&D and production capacity.